15-yr-old girl suspect to be charged as an adult, indicted on 1st-deg. murder for death of Elizabeth Olten, 9
A Cole County judge ruled today that the 15 year old suspect in the murder of 9 year old Elizabeth Olten will be tried as an adult. Upon the judge's ruling, 15 year old Alyssa Bustamante was arrested on the charge of first degree murder and was taken into adult custody. A Cole County Grand Jury indicted Bustamante on charges of first degree murder and armed criminal action.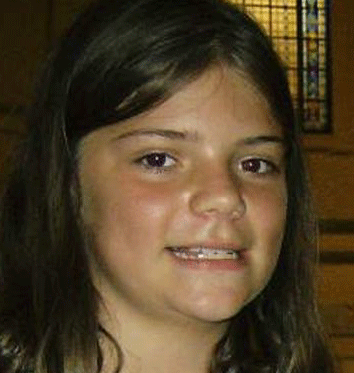 Authorities accuse Bustamante of strangling, stabbing, and cutting the throat of Elizabeth Olten on October 21, the day Elizabeth went missing. Bustmante faces the charge of armed criminal action for allegedly using the knife in the murder. Bustmante, wearing an orange jumpsuit and shackles, reportedly showed little emotion during her arraignment today and did not speak. She is being held in the Cole County jail on no bond. The judge entered a not guilty plea on her behalf at the arraignment. She could face life in prison without parole if convicted of first degree murder.
History of mental illness?
During the juvenile certification hearing, the chief juvenile officer for the circuit court, David Cook, testified Bustmante spent 10 days at a mental health center after a suicide attempt. Cook said Bustmante was treated at a healthcare facility for depression and she attended treatment regularly and was prescribed prozac for the depression. Cook said last year her family had expressed concerns about Bustmante exploring "Goth" culture on the internet, which she later stopped. Since her arrest, jail officials had to cut her fingernails after she tried to cut herself while in custoday.
Was it planned?
Sgt. David Rice, of the Missouri Highway Patrol, interviewed Bustmante after her arrest and testified today that Bustmante told him that she had dug two holes the Friday before the killings! Bustmante also allegedly confessed to Rice that she killed Olten because she "wanted to know what it felt like" to kill someone. The body of Elizabeth Olten was found 2 days later, "very well concealed" in a wooded area near her home, according to police.
Advocates for Abandoned Adolescents - Our Mission is to do better!